 Authentic hunting tours in Spain
We offer hunting experiences all across Spain on game species such as Iberian red stag, fallow, chamois, mouflon and all sub-species of the Spanish ibex. 
We organize truly authentic hunting tours, providing an unforgettable holistic hunting, nature and cultural experience for each and every hunter.
Spanien Jagtrejser ApS is a Danish company, founded and run by PH and professional guide Thomas Kjær who is living in Spain himself. We are part of the Danish Rejsegarantifonden (Reg. No. 3405).
What do our guests say about us?
"We had ordered a nice fallow deer and a good SE Ibex. We received both in a very professional and pleasant manner. We also enjoyed very knowledgeable and empathetic guiding and advice. We met so many lovely helpful people and not least we experienced being 'invited guests' and making many good acquaintances.
My wife and I can only give our warmest recommendations. We were looking for closeness and sincerity and we got it in full. We have booked again for partridge hunting and perhaps an Ibex at the same place. Thomas is trustworthy and honest and we experienced VIP service beyond the ordinary."
– Henrik Rasmussen
Welcome to Spanien Jagtrejser
As our guest, you will have a very special and authentic experience, where you will get close to the Spanish hunting culture. You will experience hunting as a local, as you are a guest of us and our partners. 
At Spain Jagtrejser, you get to hunt with the locals in Spain, through our good contacts. If you wish, it is always possible to be accompanied on the trip by owner and PH Thomas Kjær, who lives near Malaga. 
Because of our Danish-Spanish cooperation, where we ourselves live locally and our partners are close friends of ours, a hunting trip with us is not like many others. It is an invitation into our everyday life and to experience the hunting experiences we ourselves love.
In other words, we don't just offer hunting in Spain. We offer a complete experience that provides a unique way to experience the country and it's nature and culture.
Who is Spanien Jagtrejser?
We wish to give hunters the authentic hunting experience as we have experienced it ourselves.
Spanien Jagtrejser ApS is owned by Thomas Kjær. The company operates from Spain's sunny coast, near Malaga, where Thomas lives with his Argentinian wife and their sons. The idea behind Spain Jagtrejser came about after Thomas himself had been hunting several times in Spain since he moved to the country.
A hunting trip in Spain will usually always be accompanied by Thomas, who acts both as a tour guide but often also as a PH. With more than 15 years of hunting experience, including 4 years in Spain, Thomas ensures that the trip and the hunt go as planned and tells empathetically about the hunting, nature and culture in Spain.
In addition, there will always be a local ranger/tracker present during the hunt. In addition to Thomas, who is owner and PH, we work with Miquel, Josep, Juan Salvador, Javier and Ignacio, who are all PHs and partners for several years.
The hunting areas where we hunt are a mix of private and state owned land. What they have in common is that we hunt only on the best territories, where many medal trophies are shot and each year we have several in the top 10.
At Spanien Jagtrejser, a hunting trip is a complete experience filled with sensations and unforgettable memories.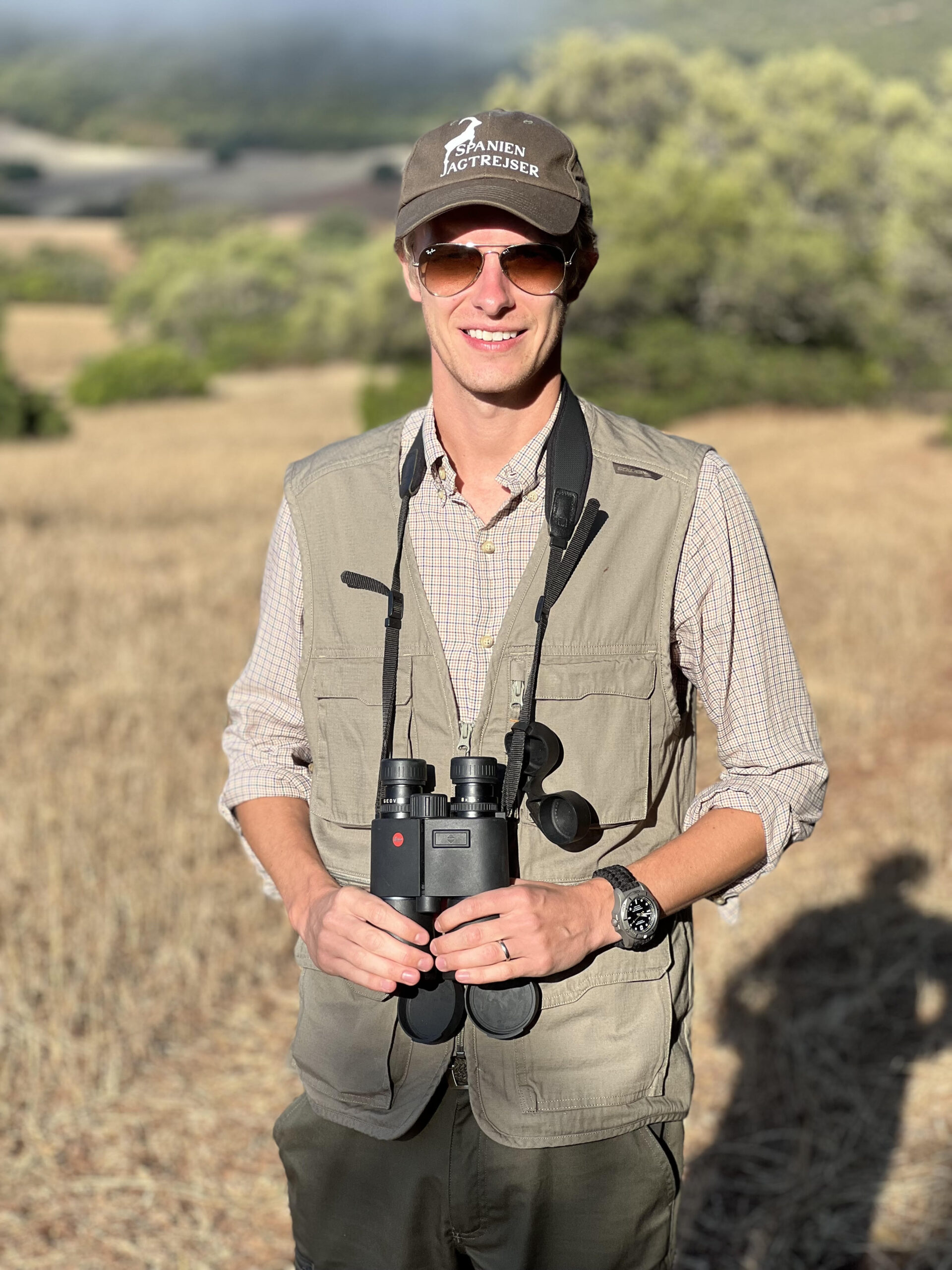 The breathtaking Spanish scenery
The Spanish countryside offers many different experiences. On our hunting trips you'll experience nature that many people don't know exists in Europe – including barren desert landscapes in Europe's largest desert, ancient cork forests in the world's largest cork plantation and incredible mountain landscapes, high plateaus and magnificent forests. Whatever game you're after, a hunting experience with Spain Jagtrejser will be one you'll never forget.
Game Species
Hunt after the majestic Iberian red stag, a beautiful fallow deer, the strong mouflon or the shy ibex. We offer hunting on all the Spanish sub-species of ibex – Ronda, Southeastern, Beceite and Gredos. 
There are many possibilities, and if you do not find what you are looking for on this page, please contact us as we can usually find what you are looking for in our network. 
Unforgettable hunting experiences
At Spanien Jagtrejser we focus on stalking hunting experiences. In other words, we always actively hunt for the game. We only work with landowners who care as much about sustainable game management as we do – therefore there is plenty of game where we hunt, giving our guests a 99% guarantee of bringing down the trophy they desire. We only shoot beautiful mature animals – a representative trophy at our place, is therefore always a trophy both we and our guest are happy with. Our hunting is selective, therefore it usually takes a few days to find the right trophy.
The nature is indescribably beautiful and the weather is (almost) always good. Therefore, hunting in Spain often does not require a large jacket and other equipment, with the exception of a few hunts for e.g. Gredos ibex and Beceite ibex. In dialogue with Thomas, you will always be advised before the hunt so that you are well equipped before – and during – the hunt. 
The hunting season is generally very similar to the one we know from the rest of Europe with some local deviations. Generally the hunting season continues until March/April and for some game it lasts almost all year round. See more about hunting seasons under Catalog. 
Please feel free to reach out to us
Do you want to know more about our hunting experiences or book your experience with us today? Then feel free to contact us.